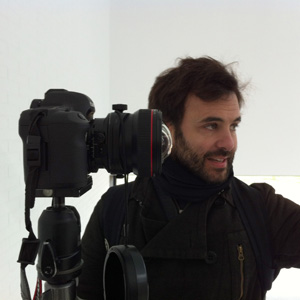 Adrià Goula Sardà studied at the l'Escola Tècnica Superior d'Arquitectura de Barcelona where he graduated in 2000 and received a Diploma of Advanced Studies (DEA) in 2007. He initially worked as an architect in different architectural bureaus in Paris and Barcelona, including Enric Miralles & Benedetta Tagliabue or Yves Lion, until 2004, when he started his professional career as an architecture photographer.
Goula has carried out more than 1000 commissions for renowned architects and public and private institutions on a national and international level. His work has been cover on many magazines (Domus, Abitare, Casabella, AMC, Téctónica, On, Quaderns...), published in several monographic publications, and in various books and magazines such as Frame, Mark, Arquitectura Viva, C3, Blueprit, Dwell, Detail, AIT, among others. He is visiting lecturer for the Architecture Photography workshop at the Sert School from de COAC (Professional Association of Architects of Catalonia) since 2010. He participated as keynote speaker in several conferences, courses and workshops for universities and architecture schools in Barcelona including ETSAB, ETSAV and COAC. At the moment he is expanding his professional work to moving image, creating shorts clips of architecture video. Time, sound and movement, in addition to the photographic approach, is the new material he is working with to create new forms to communicate architecture.
In addition to his commercial work, he has been developing personal projects investigating form, texture and memory. Goula's artistic practice explores photography as a medium, with the aim to go beyond the window frame to create abstract self-contained images. Architecture but also landscape or still life, are the elements he uses to create images where the bidimensional compositions, complexity, imperfection and abstraction are the main subjects.
Goula's work has been exhibited in several galleries in Paris (Salon the Thorigni), Bordeaux (Atélier Dartois) and Barcelona (Kowasa Gallery, Coac, The Architecture Gallery). He has been among the finalists of the AENA 2012 photography award, Honorable Mention at the IPA 2013 and he is been selected to participate in "Descubrimientos" of PhotoEspaña 2012 and in the "Full Contact" of the Scan Festival 2012 in Tarragona. In December 2011 The Fundación Esteyco published his monographic book De-Construcción where in a diptych format confronts images of architectures in construction with the others in demolition, creating visual parallelisms between them.

Contact:
adriagoula@coac.net
adria@adriagoula.com
P: + 34 687 807 525

Assistants:
Xavi Alias (postproduction): postproduccio@adriagoula.com
Laura Obradó (communication): comunicacio@adriagoula.com

Web:
Programming: Vincenzo Megale (www.vinx.info)
Original desing: Raúl Goñi (www.goni-studio.com)

Studio:
Latelié (www.latelie.cat)
c. St. Pau 3
Caldes de Montbui
08140 Barcelona
Spain